Financial Ratios
| DESCRIPTION | Mar-23 | Mar-22 | Mar-21 |
| --- | --- | --- | --- |
| Current Ratio | 1.01 | 1.16 | 0.92 |
| Debt Equity Ratio | 0.26 | 0.13 | 2.53 |
| Debt Service Coverage Ratio | 2.01 | 2.54 | 1.65 |
| Return on Equity Ratio | 17 | 15 | 27 |
| Inventory turnover ratio | 5.67 | 10.19 | 5.68 |
| Net Profit Ratio | 8 | 6 | 12 |
| Return on Investment | 3 | 7 | 11 |
Sterlite Power major driving force for revenue generation comes from the contracts & services provided to the customers, sale of products along with engineering procurement, construction & several overseas projects. It has a strong presence in the power conductor and cable manufacturing business, with 20% and 10% market share, respectively. It also upgrades the existing transmission network under the master system integration (MSI) division, where it has close to 50% market share of intra-state transmission space.
Power Sector & Transmission glance
Transmission system plays an important role in supply of power to the consumers through the vital link between the generating stations and the distribution system. With rising demand from both domestic and international market, it is quintessential to protect & progress simultaneously for reliability. Power transmission and distribution equipment market has become enormous, and it is estimated to be USD 257 billion market in 2022 & estimated to reach USD 312 billion by 2026 at a staggering CAGR of 4.8%.
Sterlite Power is also a renounced name in the field of power transmission infrastructure with projects of ~13,700 circuit km (ckm) and 26,100 mega-volt ampere (MVA) in India and Brazil. Its portfolio consists of power conductors, extra-high voltage (EHV) cables and optical ground wire (OPGW) apart from offering solutions & building network across 60 countries.
Sterlite Asset Portfolio across India & Brazil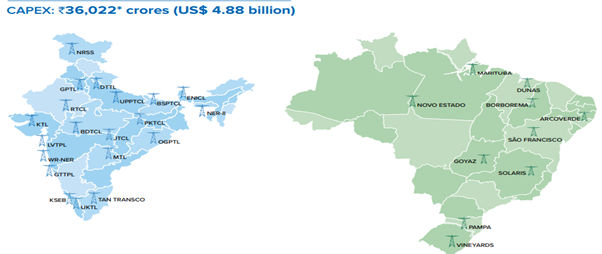 Domestic Market
As per the latest report published by Central Electricity Authority, the electricity generation target (Including renewable energy) for the year 2023-24 has been fixed as 1750 billion Unit (BU). i.e., growth of around 7.2% over actual generation of 1624.158 BU for the previous year (2022-23). The generation during 2022-23 was 1624.158 BU as compared to 1491.859 BU generated during 2021-22, representing a growth of about 8.87%.
The electricity generation target for the year 2023-24 was fixed at 1750 BU comprising of 1324.110 BU Thermal; 156.700 BU Hydro; 46.190 Nuclear; 8 BU Import from Bhutan and 215 BU RES (Excl. Large Hydro).