ABOUT
API Holding Limited is an integrated digital healthcare platform & is engaged in diversified business primarily involved in trading of pharmaceutical and cosmetic goods, licensing of internet portals or mobile applications related to sales and distribution of pharmaceutical and cosmetic goods, diagnostic services, teleconsulting etc.
Product Line
API Holdings is a key player in India's digital healthcare ecosystem and with strategic acquisition of multiple brands & getting key hold to it. The PharmEasy brand has a market share of over 50 percent. The firm provides digital tools and information on illness and wellness and offers teleconsultation, diagnostics and radiology tests and delivers treatment protocols, including products and devices. The firm has reported losses in the last two years and the first quarter of the financial year 2022.
They work closely with and build services for consumers, pharmaceutical companies, wholesalers, pharmacies, hospitals, doctors and clinics, and diagnostic labs. With growing nationwide presence, the connected ecosystem approach, and multiple synergistic offerings have enabled them to build relationships with various stakeholders of the healthcare value chain.
Total expenses surged to INR 1086.89 crore as on FY22 whereas it was around INR 155.47 during FY21. At the same time due to ongoing expansion in business operation and multiple acquisition further pushed PAT into negative figures of INR 5081 crore in FY22.
< class="row">
Schedule a meeting with the Private Equity Experts
to understand more about Unlisted Shares & Stock Investments
Financial Highlights
| DESCRIPTION | Mar-22 | Mar-21 | Mar-20 |
| --- | --- | --- | --- |
| Revenue from Operation | 169.74 | 50.45 | 676.07 |
| PAT | -5081.01 | -79.76 | -298.74 |
| Cash Flow from Operations | -629.99 | -187.66 | -401.05 |
| Cash Flow from Investing | -5863.45 | -897.66 | -184.60 |
| Cash Flow from Financing | 6507.66 | 1071.00 | 604.81 |
| Debt to Equity | 0.05 | 0.07 | 0.73 |
| Current Ratio | 0.57 | 6.19 | 4.28 |
| EPS | -8.27 | -0.28 | -99.59 |
Face Value of share is INR 1/ share.
Major source of revenue comes from the selling of a wide range of pharmaceutical and cosmetic products followed by the revenue generated from diagnostic services, licensing of internet portals, teleconsulting, software, subscriptions method.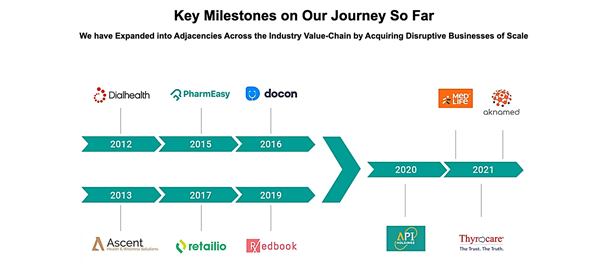 Industry Overview
According to the Grand View Research, the global digital health market size is expected to reach USD 1.5 trillion by 2030 and is expected to expand at a CAGR of 27.7% over the forecast period. Advancements in the internet connectivity, growing smartphone penetration, rising healthcare IT expenses, developing IT infrastructure, technology readiness, a growing shortage of healthcare providers, overburdened healthcare facilities, and rising medical expenses are driving the market growth.
The unprecedented time gave rise to new opportunities to setup base for digital healthcare sector due to lack of an option people were heavily dependent and find it out easier to have an online consultation or get the delivery of medical supplies at their doorstep. This remains the common practice during and post covid era. Indian market flourished because of this trail of events also the digital revolution and people getting much more concerned about their wellbeing also added wide scope and huge market.
Acquisition
API Holding acquired Medlife International Private Limited and its subsidiaries in Fiscal 2021 and in Fiscal 2022, they acquired Thyrocare Technologies Limited together with subsidiary Nueclear Healthcare Limited and its associate Equinox Labs Private Limited and Akna Medical Private Limited, together with its subsidiaries, Vardhman Health Specialities Private Limited, Shreeji Distributors Pharma Private Limited, Supplythis Technologies Private Limited, Healthchain Private Limited, Allumer Medical Private Limited, Cosaintis Products Private Limited and pharmaceutical business of Novogene Life Sciences Private Limited.
Business and Brands

The firm initially planned to file for an IPO (2021) but backed down from it due to pandemic situation which disrupted the entire market.
Key Personnel -
Aditya Puri – Chairman & Non Executive Director
Siddharth Shah – MD & CEO
Dharmil Sheth – Co-Founder & Whole Time Director
Harsh Parekh – Co-Founder and Whole Time Director
Dhaval Shah – Co-Founder
Hardik Dedhia – Co-Founder