Mobile internet user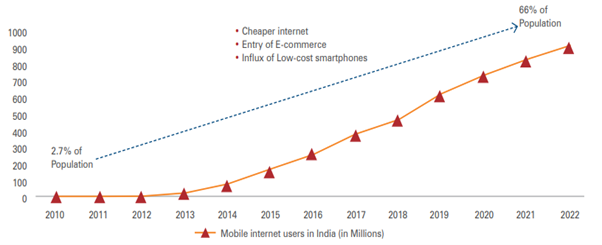 Ultimately, financial bodies which understand customers requirement & develop platform accordingly or adapt new one will be getting benefitted, while HSL seems to be covering most of the parameters by providing user friendly tools, advisory service & regularly updating & adding features like off market order (place after market hours), basket order (multiple scrips at a time), encash order (amount credited on the same day). Having a connection with prominent bank, it gives HSL extra leverage to connect with the wide customer base & provide them with add on solutions: banking & trading accounts (3-in-1 accounts), & post settlement operations. It has mitigated risk by investing in diversified investment policy across various asset classes: - invest in foreign market, NRI offerings, PMS/AIF, E-tax & e-will, NPS, equity, derivative, SIP, Corporates FD, NCD, IPO, mutual fund, etc.
Brokerage income is being considered as major organic source of core revenue stream & still accounts for a substantial proportion of revenue within the industry. With the debuting of new age brokers, who has been focusing on lower or fixed brokerage, has pushed the large incumbents gradually to diversify their portfolio offering with rising focus on value added services including advisory & research, financial planning and analysis, asset & wealth management apart from trading facility.
Risk
Brokerage firms dealing under various product lines has put an imminent cloud of uncertainty because of market risk, operational risk & compliance risk associated with it, along with that ongoing tussle with other banking brokerage competitors & new debutants in the market who are specialized in brokerage vertical only & using new technologies like block chain, AI etc.
The continued rise in derivatives volume especially from retail side has concerned SEBI, and it has thus tightened the rules for the same in order to ensure safety. Such tightening is expected to increase the cost for intermediaries, which will likely to lead out in the consolidation of the industry.